There are few, if any, remaining bluesmen with such a distinctive voice and style as Omar Kent Dykes. He has never turned on a computer ("I'd rather be learning a new shuffle than a computer program"). He doesn't like a lot of rehearsal (The basic tracks for the new album were cut in two days).  And he doesn't favor set playlists for his live gigs because he wants the music to be fresh, energized, and entertaining. He is a gifted songwriter who scribbles ideas on napkins and in the whitespaces on magazines and then puts them away until it feels right. After 50 years of success playing guitar and almost 40 with Omar and the Howlers, who is goin' to tell him different?
I've always considered Omar to be an iconic blues and roots music figure. His voice is as unique as that of Howlin Wolf, Little Richard, or James Brown. Raised in a small Mississippi town where he snuck out at night as a kid to play in juke joints, his songwriting and guitar playing carry on the best of the American blues traditions he learned as a young man. His musical tastes range from Robert Johnson to Stevie Ray Vaughn with a smidgin of rockabilly and outlaw country on the side. On "I'm Gone", the first new music by Omar and the Howlers since 2004, he plays a variety of music styles as only he can. And the cast of Howlers, who have changed over the years, do a great job of supporting his music vision. "Move Up to Memphis" is a catchy foot tapping rockin' blues tune. "Goin' Back to Texas" is a great blues tune that pays tribute to the 35 years he has spent in the Lone Star state.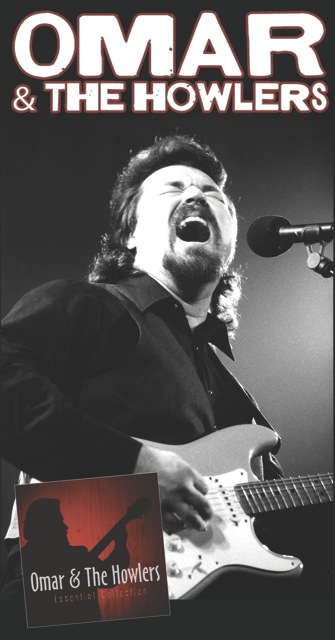 My favorite tune is "Down to the Station" where his vocals, lyrics, and guitar playing mesh into an instant Texas blues classic that should make Stevie Ray smile from up on high! I can't wait to get the chance to see him do it live! The one tune on the CD not written by Omar is a John Lee Hooker song, "I'm Mad Again" that is simply awesome slow sultry blues and should be a tour staple. "Lone Star Blues" and "Omar's Boogie" are nice blues instrumentals and the title cut, "I'm Gone", is a good rockabilly tune. I even enjoyed the one outlaw country tune on the CD, "Drunkard's Paradise". I have to believe he was thinkin' back to his juke joint days and all those little bars where he and the Howlers paid their dues when he wrote it.
As more and more of the first generation of bluesmen and women pass on and my generation of blues artists approach retirement age, I can only hope that Omar will follow the example of B.B. King and Buddy Guy and just keep playing the blues as long as he is able. By that standard, we have another twenty or thirty years to enjoy him. He is an American blues treasure and I encourage you to buy this album and catch him on tour when he goes out on the road.
Big Guitar Music: Omar & The Howlers – I'm Gone (June 2012)